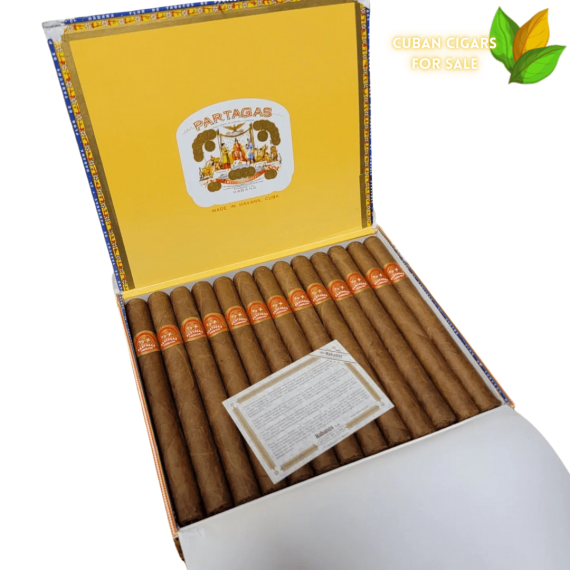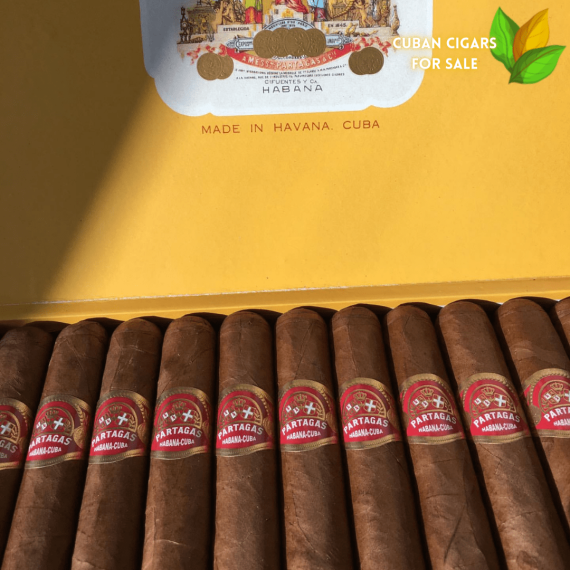 22
people are viewing this right now
Guaranteed safe & secure checkout
Description
Cigar Brand: Cohiba
Country of Origin: Cuba
Ring Gauge: 49
Length: 194 mm
Shape:  Double Coronas
Strength: Full
Made: Handmade
Avg. Smoking Time: 70 minutes
Box Format: Pack of 3 Tubes, Box of 25, Box of 10 Tubes
Status: Currently Available
Partagas Lusitanias
This great cigar a classic Cuban cigar that has been around since 1845. This long-running brand offers a variety of sizes, all of which are handmade with a dark, oily wrapper. The flavor profile is typically full-bodied and robust, with notes of earth, leather, and spice. It could be defenitely one of the best cuban cigars in the market.
What makes this cigar so special?
One of the most special cigars in the world. It is made with a very rare tobacco called "Piloto Cubano", which is only found in the Vuelta Abajo region of Cuba. This tobacco gives the cigar its unique flavor and aroma. The Lusitanias is also one of the largest cigars made, measuring over 7 inches long. It takes over 2 hours to smoke one of these cigars, making it a true indulgence.
How do they taste like?
It is a medium-bodied cigar with a strong flavor. They have a woody taste with hints of coffee and creamy chocolate. The cigars are well-constructed and have a good burn. in the second third you will be able to taste a flavor full of rich notes of citrus, cinnamon and caramel notes.
What's the size of a Partagas Lusitanias?
It is a double corona cigar, approximately seven and a half inches long with a 49 ring gauge . This makes it a fairly large cigar, but not the largest size that Partagas offers. The Lusitanias is a hand-rolled Cuban puro, meaning that the entire cigar is made from tobacco leaves grown in Cuba. The tobaccos used in this cigar are aged for at least two years before being rolled, which contributes to its smooth, complex flavor.
How long does a Partagas Lusitanias last?
Typically lasts around 90 minutes. However, this can vary depending on how you smoke it. If you take small puffs, it will last longer. If you take large puffs, it will burn faster.
What is the type of wrapper on the Partagas Lusitanias?
This is a Cuban cigar that is wrapped in a dark, oily wrapper. This type of wrapper is known for its strong flavor and ability to hold in moisture, which makes it ideal for smoking in humid conditions. The Partagas Lusitanias is a full-bodied cigar with a robust flavor that is perfect for experienced smokers.
What's the place to buy Partagas Lusitanias online?
The best place to buy this kind of cigars online is from a reputable cigar retailer. There are many online retailers that sell Partagas , but not all are created equal. A good cigar retailer will have a wide selection of cigars, including the Partagas Lusitania, and will offer competitive prices. They will also have good customer service and a return policy in case you are not satisfied with your purchase.
What does the Partagas Luitanias smell like?
The Partagas Lusitanias is a medium-bodied cigar with a flavor that is earthy and nutty. There is also a hint of sweetness and spice. The aroma of this cigar is woody and sweet.
Is the Partagas Lusitanias a good cigar for beginners?
If you're just starting out with cigars, it would be definitely a good option. They're not too strong, but they're still flavorful and enjoyable. You might want to try a few different types of cigars before settling on one that you really like, but the Lusitanias are definitely a good place to start.
There are no question found.