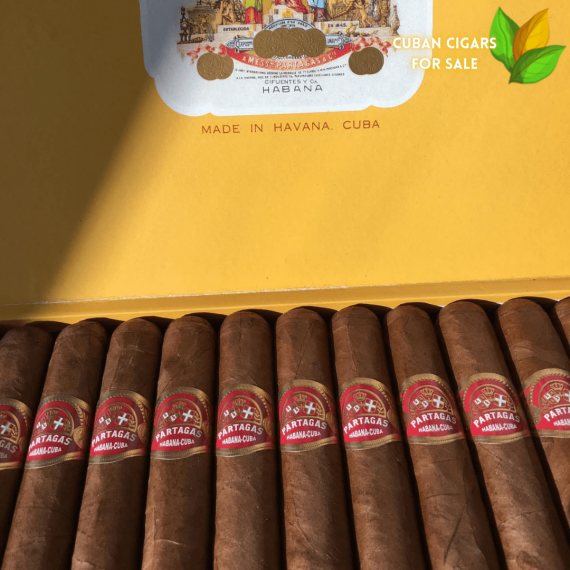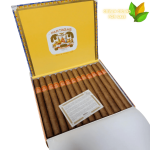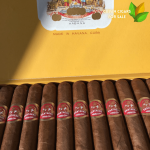 29
people are viewing this right now
Guaranteed safe & secure checkout
Description
Partagas Lusitania Cuban Cigar
When the world of cigars is brought into conversation, it's hard not to mention the legendary Partagas Lusitanias. Originating from the heart of Cuba, this iconic cigar has been a favorite amongst aficionados for years. In this review, we delve deep into its history, making, and what makes it a must-have in every humidor.
A Brief History of Partagas
The Partagas brand is no stranger to the world of cigars. Originating from Havana, it has firmly established its roots as one of Cuba's leading cigar manufacturers. Its history is rich, intertwined with the very fabric of Cuba's tobacco culture.
What Sets the Lusitanias Apart?
Among the vast range of cigars offered by Partagas, the Lusitanias stands tall, both figuratively and literally. A double corona, it's considered one of the finest cigars in the world. What's truly mesmerizing is its flavor profile – from hints of honey to a robust earthy base.
Key Features of the Partagas Lusitanias
Size and Dimensions:
At 194mm with a 49 ring gauge, this cigar is old enough and has been around long enough to be considered one of the iconic and classic cigars of the Partagas brand.
Tobacco Origin:
Sourced from the Vuelta Abajo zone, the tobacco offers a medium to full body experience. The tobacco leaf wrapper is elegantly rolled, exuding an aroma that promises a rich, creamy smoke with complex flavor notes.
Flavor Profile:
Earthy undertones dominate the first third, with hints of cedar and cacao coming through as you delve into the second third. The final third is a medley of peppery and leathery notes that many aficionados seek in a great cigar.
The Making of Partagas Lusitanias
The manufacturing process of this cigar is a testament to Cuba's tradition of hand-rolled cigars. Using long filler from the region's finest tobacco, and coupled with a wrapper leaf of the highest quality, every Partagas Lusitania is crafted to perfection.
Awards and Recognitions
This Cuban cigar has garnered various accolades over the years, earning high scores consistently on Cigar Aficionado. With its consistent quality, it's no surprise that it is often featured as a top pick in many cigar smoking events.
Where to Buy Partagas Lusitanias?
For those looking to add this cigar to their collection, they are available for sale at authorized retailers. Ensure you purchase from reputable sources to guarantee authenticity.
Technical Specifications:
| Feature | Specification |
| --- | --- |
| Size | 194mm |
| Ring Gauge | 49 |
| Flavor Profile | Medium to Full |
| Origin | Cuba |
| Wrapper | Tobacco Leaf |
| Filler and Binder | Vuelta Abajo Zone Tobacco |
Final Thoughts
The Partagas Lusitanias is more than just a cigar – it's an experience. Every puff takes you on a journey through Cuba's rich tobacco heritage. Whether you're new to cigars or a seasoned aficionado, this Cuban cigar promises an experience that you won't soon forget.
There are no question found.