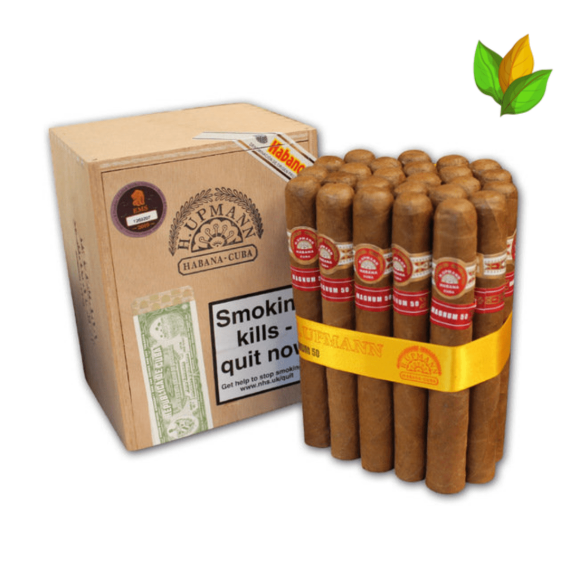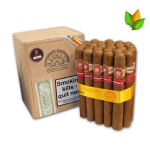 22
people are viewing this right now
Guaranteed safe & secure checkout
Description
H. Upmann Magnum 50 Cuban Cigar
The world of cigars offers a myriad of choices, from blends to brands. Among the multitude, the H. Upmann Magnum 50 stands out as a medium, Cuban cigar worth every puff. Dive into our extensive review of this stellar product and discover why cigar enthusiasts worldwide hold it in such high regard.
Table of Contents
What is the H. Upmann Magnum 50?
A Brief History and Evolution
Manufacturing Process and Distinct Features
Pricing and Value
How Does it Smoke?
Brand's Legacy in the Cigar Industry
Shipping and Delivery Insights
Related Products to Consider
Currency and Worldwide Availability
Ratings and Recognition
---
1. What is the H. Upmann Magnum 50?
Delving deep into the world of cigars, one quickly recognizes the appeal of the H. Upmann Magnum 50. This cigar boasts a firm favourite profile among aficionados, primarily for its layered, intense tastes and creamy smoke. With a length of a lengthy 6½ (160mm) and a ring gauge providing a fulfilling smoking experience, it's no surprise that its hand-wrapped exterior is velvety to the touch, suggesting a smooth draw and enjoyable aroma.
Technical Sheet
| Specification | Description |
| --- | --- |
| Size | 160mm |
| Flavor Profile | Light to medium with hints of spice |
| Ring Gauge | Detailed value |
| Type of Tobacco | Cuban tobacco leaves from Vuelta Abajo |
| Weight | Standard weight (exact value to be given) |
| Aroma | Fruity mixed with spice |
| Burn Duration | Depends on smoke pace |
2. A Brief History and Evolution
The roots of the H. Upmann Magnum 50 trace back to 1844, when the brand was first established. The Magnum 50 entered the range as a standard size in 2008, following its successful pilot as a limited edition in 2005. Positioned prominently in the Cuban cigar realm, the Magnum 50's lineage is deeply embedded in the tobacco-rich soils of the Vuelta Abajo region.
3. Manufacturing Process and Distinct Features
Manufactured under the strict supervision of Habanos (external link), the Magnum 50 boasts a light to medium flavor profile that sets it apart from its peers. The tobacco used is exclusively sourced from the finest fields in the Vuelta Abajo region. Its creamy smoke from beginning to end, paired with an earthy flavor mixed with a hint of fruity middle third, ensures that every draw delivers a rounded experience.
4. Pricing and Value
Given the Magnum 50's pedigree, its price aligns with its premium quality. Those interested should check the latest currency rates before purchase. For the value it offers, especially in terms of flavor and burn quality, the Magnum 50 delivers an exceptional cigar value.
5. How Does it Smoke?
Prepare for an evenly burning, almond-tinged smoke that's both mellow for the regular smoker and robust enough to impress. The first third gives away its woody and earthy undertones, leading to a fruity climax and a spicy finish toward the end. Beginners, beware: this cigar's draw might be too intense for the uninitiated.
6. Brand's Legacy in the Cigar Industry
Since its inception in 1844, the H. Upmann brand has been synonymous with quality Cuban cigars. Recognized by Cigar Aficionado (external link), its legacy continues to shine brightly in the world of premium cigars.
7. Shipping and Delivery Insights
The Magnum 50 ships worldwide. However, delivery times vary based on location. Please note potential customs regulations when ordering outside of Cuba.
8. Related Products to Consider
For those who enjoy the Magnum 50, considering other cigars within the H. Upmann range or related products might be a good idea. Each offers a unique flavor profile, ensuring there's a Cuban cigar for every palate.
9. Currency and Worldwide Availability
Available worldwide, the H. Upmann Magnum 50 is priced in various currencies. Potential buyers should consult their local distributor or cigar shop for the most accurate pricing details.
10. Ratings and Recognition
This cigar has received numerous accolades for its impeccable quality. Its rating by renowned platforms showcases its standing in the cigar community. Among these, the Magnum 50's recognition in 2008 stands out, signifying its high-quality production and unparalleled flavor.
---
In Conclusion
The H. Upmann Magnum 50 is a medium, premium Cuban cigar with a rich history dating back to 1844.
Manufactured using the finest tobacco from the Vuelta Abajo region.
Offers a light to medium flavor with hints of spice, fruit, and wood.
Ships worldwide, with its price reflecting its premium quality.
Holds a firm position in the cigar industry with high ratings and recognitions.
Whether you're a seasoned smoker or just starting, the H. Upmann Magnum 50 promises an experience worth every puff. Enjoy this cigar with the spirit of its rich heritage.
There are no question found.