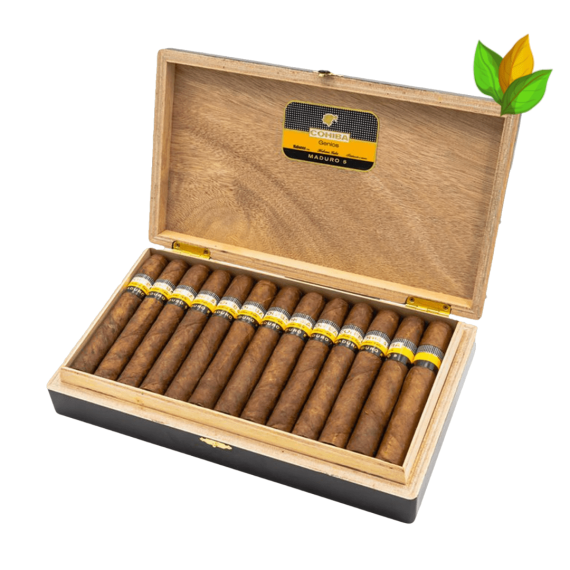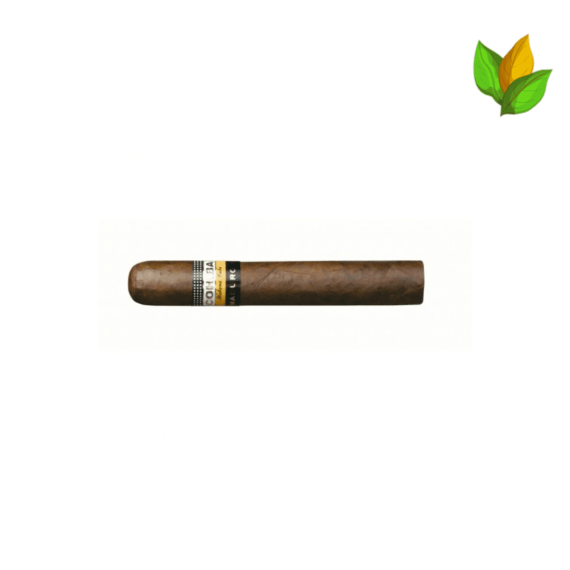 27
people are viewing this right now
Guaranteed safe & secure checkout
Description
Factory Vitola: Genios
Origin: Cuba
Popular Vitola: Robusto Extra
Ring Gauge: 52
Length: 140 mm
Diameter: 20.64 mm
Weight: 15.80 gr.
Strength: Medium to Full
Made: Hand-Made
Release Date: 2007
Status: Currently Available
Cohiba Maduros 5 Genios: what makes them so special?
Cohiba Maduros 5 Genios cigars are some of the finest available and for a good reason. Handcrafted in the Dominican Republic, each cigar is made from only the highest quality tobacco. A dark and oily Connecticut Broadleaf wrapper adds a smoky sweetness to the mix. At the same time, an aged blend of Dominican Olor and Piloto Cubano fillers creates a full-bodied flavour that is both complex and satisfying. The construction of these cigars is also top-notch, featuring intricate triple caps and an impeccable draw that provides ample smoke with each puff. With its smooth finish and deep aroma, Cohiba Maduros 5 Genios offers a unique smoking experience that any aficionado would appreciate.
The taste of Cohiba Maduros 5 Genios: what does it taste like?
The Cohiba Maduros 5 Genios cigar is an exquisite and complex smoke. Its rich, dark wrapper adds a unique flavour to the smoking experience. The earth, leather, and spice notes give way to a sweet and creamy finish that lingers on the palate. The complexity of the flavours makes it difficult to pinpoint one particular taste. It has hints of cocoa and coffee, with a smooth sweetness that coats your tongue throughout the smoke. The draw is effortless, and the burn is even and slow, ensuring an enjoyable experience all the way through. Both novice smokers and experienced aficionados can enjoy the Cohiba Maduros 5 Genios cigar.
What's the size of Cohiba Maduros 5 Genios?
Cohiba Maduros 5 Genios is a widely appreciated cigar for its exquisite flavour and complex aroma. It has a length of 6 1/2 inches and a ring gauge of 54, making it a robusto size cigar. The shape of the Cohiba Maduros 5 Genios makes it easy to handle and enjoy, allowing maximum smoke output and flavor. The firm draw further adds to the overall experience as it allows for an even burn throughout the entire length of the cigar. This medium-bodied smoke offers plenty of complexity and depth, making it an excellent choice for experienced smokers looking to enjoy something special. With its unique combination of flavors, this premium cigar will surely be enjoyed by all who try it.
How long does a Cohiba Maduros 5 Genios?
Cohiba Maduros 5 Genios cigars are some of the world's best-known and most beloved cigars. They are known for their robust flavor, smooth draw, and long burn time. On average, a Cohiba Maduros 5 Genios cigar will last about an hour or more when smoked slowly and savored. Depending on your smoking habits, you may be able to enjoy this cigar for up to two hours or more. The key is to take your time and savor every puff. As with any premium tobacco product, it's important to respect the process and treat yourself to an unforgettable experience that only comes with smoking a high-quality cigar like the Cohiba Maduros 5 Genios.
What is the type of wrapper on the Cohiba Maduros 5 Genios?
The Cohiba Maduros 5 Genios cigars are wrapped in a dark, oily Maduro wrapper. This type of wrapper is one of the world's finest and rarest tobacco leaves and is grown exclusively in the Vuelta Abajo region of Cuba. It has an intense flavor and aroma that is distinctly different from other wrappers. The Maduro wrapper contributes to the overall complexity of the cigar by adding sweet, earthy flavors with hints of cocoa, coffee, and spice. The oils from this wrapper also help to enhance the ageing process for these cigars, allowing them to develop a more robust flavor profile over time. While this wrapper is expensive, it produces one of the best smoking experiences available. It ensures that every Cohiba Maduros 5 Genios cigar will deliver a memorable experience every time.
What's the place to buy Cohiba Maduros 5 Genios?
Cohiba Maduros 5 Genios are one of the most sought-after cigars in the world. As such, they can be difficult to come by and finding a place to buy them can be challenging. The best place to find Cohiba Maduros 5 Genios is from an authorized retailer or cigar shop specializing in premium, hand-rolled cigars. These retailers often carry limited quantities, so it's important to do your research ahead of time and plan your purchase accordingly. You may even want to call ahead of time to make sure the store has what you're looking for in stock. If you're lucky enough to live near an authorized retailer, you can visit in person and pick up your desired smokes directly from them. Online cigar retailers are also an option, but check reviews before making purchases as some may not offer authentic Cohiba cigars.
Cohiba Maduros 5 Genios: What does it smell like?
Cohiba Maduros 5 Genios cigars are a classic choice for cigar connoisseurs who appreciate the luxury of high-quality smoke. These handcrafted cigars feature a rich, dark, and oily wrapper full of flavor and complexity. The scent of these cigars is rich, with notes of earthy tobacco, sweet cedar, and hints of coffee and cocoa. The aroma that lingers in the air after lighting one of these cigars is truly unique and unforgettable; it's almost like a fine-aged whiskey or brandy. Cohiba Maduros 5 Genios cigars provide an intense smoking experience with an aroma that will linger in the air for hours after you've finished your smoke.
Cohiba Maduros 5 Genios: it's a good cigar for beginners?
Cohiba Maduros 5 Genios is a great cigar for beginners to try out. With its smooth and mellow flavor, this cigar can please even the most novice smokers. Its wrapper is a dark Connecticut Broadleaf Maduro that provides a nice sweetness and hint of spice. At the same time, the filler is made from Nicaraguan tobacco for added complexity. The draw is effortless, providing a pleasant smoking experience with no harshness or bitterness. It's also relatively affordable, making it ideal for those with limited budgets who want to explore the world of cigar smoking without breaking the bank. Cohiba Maduros 5 Genios is an excellent option for newcomers looking to dip their toes into the world of cigars.
Home ➡️ Home Page.
Cohiba Cuban Cigars ➡️ Choose Oher vitolas and boxes.
Cohiba Siglo Vl (Tubos) Box of 15 Luxury ➡️ Recommended 🔥🔥
There are no question found.