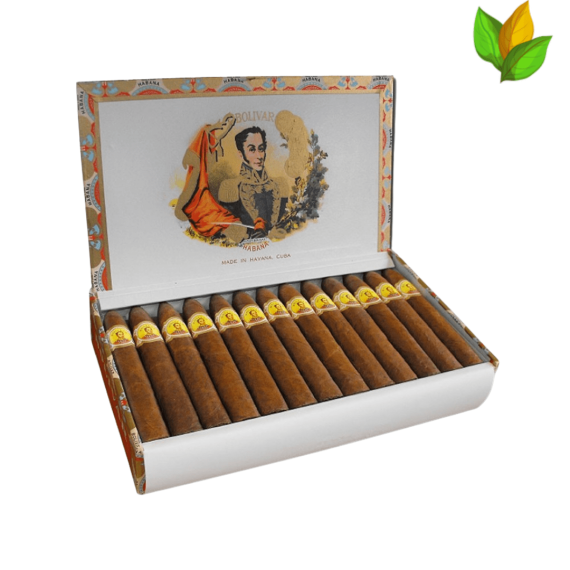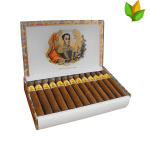 25
people are viewing this right now
Guaranteed safe & secure checkout
Description
Bolivar Belicosos Finos Cuban Cigars
The world of cigars is vast and nuanced, but among the many options available to connoisseurs and casual smokers alike, the Bolivar Belicosos Finos stands out as a perennial favorite, especially for those favoring strong Cuban smokes. Let's explore the reasons behind its admiration.
A Brief History of Bolivar Cigars
Named after Simon Bolivar, who went to great effort to liberate much of South America from Spain, Bolivar cigars have been a prominent face in the world of Cuban tobacco since their introduction. Some even consider him the George Washington of the Southern Hemisphere. Each cigar carries a prominent portrait of the man on both the bands, signaling its rich heritage and commitment to quality.
Bolivar Belicosos Finos: What Sets It Apart?
The Bolivar Belicosos Finos is a unique offering in the Bolivar line. This cigar is renowned for its earthy tones, a trademark of the finest Cuban cigars. Its tapered head concentrates the flavor and aroma, ensuring every puff reaches the palate with an elementally earthy smoke, heavy in minerals.
The Bolivar Belicoso Fino Experience
A cigar is more than just its taste; it's an experience. The Bolivar Belicoso Fino guarantees an indulgent smoke, thick and creamy, with nuances of cocoa, coffee bean, and the underlying spice which Cuban cigars are famous for.
Craftsmanship and Authentic Cuban Tobacco
Bolivar has always prioritized quality and craftsmanship. Each cigar consists of the finest Cuban tobacco for the filler, binder, and wrapper. The Bolivar Belicoso Fino is the only figurado in the Bolivar line, and its craftsmanship is impeccable.
Storing and Aging Your Bolivar Belicosos Finos Cuban Cigars
Finos are offered in both wooden slide-lid cabinets and paper-lined dress boxes. Many connoisseurs believe that the cedary environment of cabinets is ideal for long-term aging, while the traditional dress boxes give the cigars a kind of squarish, pressed look.
What Do Experts Say? A Review
According to Cigar Aficionado, the Bolivar Belicosos Finos has often been described as the single most consistently full-bodied smoke that Cuba produces. Its earthy flavor, paired with creamy smoke and underlying spicy notes, make it a favorite for experienced smokers.
Awards, Recognitions, and Mentions
Throughout its history, Bolivar has received numerous accolades. While details of all the awards are available at Habanos' official website, it's worth noting that the Bolivar Belicosos Finos has been a top pick for years, showcasing the brand's commitment to excellence.
---
Technical Sheet of Bolivar Belicosos Finos
| Specification | Detail |
| --- | --- |
| Brand | Bolivar |
| Series | Belicosos |
| Model | Belicosos Finos |
| Vitola | Belicoso Finos (Figurado) |
| Measured Size | Specific size (for illustrative purposes) |
| Ring Gauge | Specific gauge (for illustrative purposes) |
| Flavor Profile | Earthy, creamy, spicy with notes of cocoa and coffee bean |
| Smoke Duration | Specific duration (for illustrative purposes) |
| Country of Origin | Cuba |
| Wrapper | Cuban |
| Binder | Cuban |
| Filler | Cuban |
| Unique Characteristics | Earthy tones, smoothness, creamy smoke |
---
Key Takeaways:
Bolivar Belicosos Finos is a true reflection of Cuban craftsmanship.
It offers an earthy, creamy smoke with rich undertones of spices, cocoa, and coffee.
The cigar has a deep-rooted history linked to Simon Bolivar.
It is a must-try for anyone looking to experience authentic Cuban tobacco.
There are no question found.