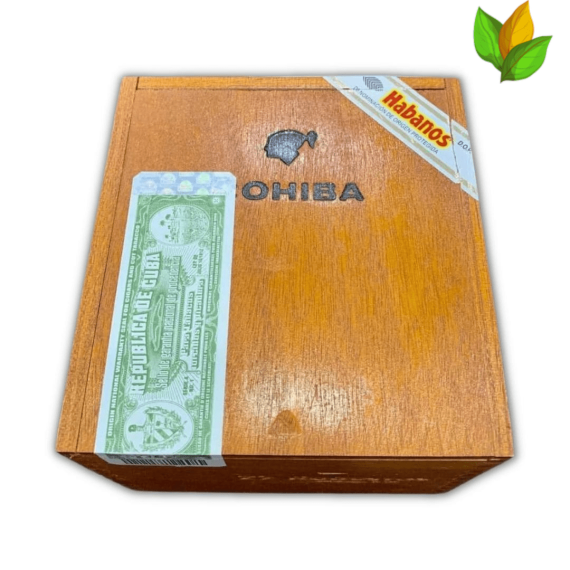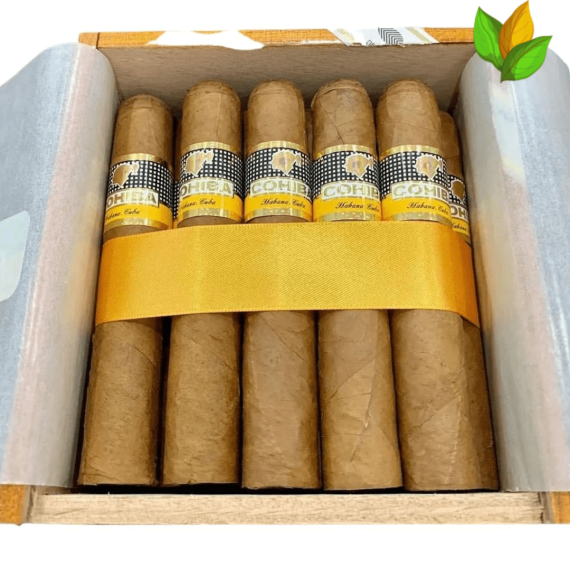 23
people are viewing this right now
Guaranteed safe & secure checkout
Description
Cigar Brand: Cohiba
Country of Origin: Cuba
Ring Gauge: 50
Length: 124 mm
Shape: Robustos
Strength: Medium to Full
Made: Handmade
Avg. Smoking Time: 45 minutes
Format: Box
Status: Currently Available
Overview: Cohiba Robustos
The Cohiba Robustos cigars are a lovely release in a Robusto form, with a length of 50mm and a gauge size of 50. The exterior is constructed with great care and shows the high-quality handiwork of El Laguito's factory. The flavor is spicy and medium to full in strength. There are also undertones of pepper, wood, and cedar in the flavor that add to the cigar's complexity. There are also echoes of honey and cocoa in the flavor profile, making it a complex and delicious smoking experience.
The Cohiba Robustos is a distinctive, full-bodied cigar first produced in 1989 and has remained an active member of the Línea Clásica range. It is a Cuban puro handcrafted in El Laguito Cohiba Factory. With its refined flavors of pepper, wood, and cedar, this cigar is full-bodied with an extensive range of textures.
The Cohiba Robustos cigars are crafted in the unique way that has expected from Cohibas. This cigar is a great example of the quality that cigar aficionados have expected from Cohiba. It is sweet and spicy throughout, with undertones of wood and cedar as well as honey and cocoa, making it a thoroughly enjoyable smoking experience.
This handmade Robustos cigar comes in an elegant wooden tube with Habanos. Over the last ten years, the Cohiba Robusto cigars have been one of the most popular artisanal trends.
What makes Cohiba Robustos special?
The Cohiba Robustos is a Cuban all-star, powerful and complex. The Robusto format is the perfect way to experience all of the flavors that Cohiba has to offer, including spicy and woodsy undertones with a medium to full body. This handmade cigar is perfect for those who appreciate a well-rounded and sophisticated smoking experience. Some important features of Cohiba Robustos Cigar are as follows:
1) A perfect representation of the quality
Cohiba Robustos perfectly represents the quality that cigar aficionados have come to expect from Cohiba. It is sweet and spicy throughout, with undertones of wood and cedar and a subtle hint of coffee and cocoa. The smoke is thick and satisfying, with an even burn to ensure a great experience from start to finish.
2) Special aroma and flavor
The Cohiba Robustos is a special cigar by all accounts, including aroma. The dry draw gives off subtle cocoa flavors and a honey-like sweetness, which is unlike anything else on the market. Once lit, those flavors are enhanced with hints of pepper and spice. The aroma of this cigar is equally impressive, with earthy and woodsy undertones that are balanced by subtle hints of coffee, cedar, and cocoa. These flavors make for a truly exquisite smoking experience.
3) Distinctive medium to full strength
Cohiba Robustos boasts a distinctive medium to full strength, with bursts of spice and pepper throughou
4) Finest Cuban Tobacco Leaves
This cigar is handmade from the finest 100% Cuban tobacco leaves and has a special, almost rustic scent. A wooden tube is included with these cigars to help ensure an optimal humidor experience for your cigars, keeping them fresh and ready to smoke.
5) Creamy white smoke
Cohiba Robustos produces a creamy, white smoke that emphasizes the quality and effort of this handmade cigar. This smoke is thick and satisfying, perfect for a cigar aficionado. This cigar also has an even burn, making for a great smoking experience from start to finish.
How is the taste of Cohiba Robusto?
In the first third, the delicate flavor of black honey with touches of spiciness is evident. From the first puff, you'll notice a grassy taste. The cigar starts medium to full-bodied and earthy with a peppery finish. In the second third, the cigar becomes more complex with wood, caramel, honey, and cedar.
How long does Cohiba Robusto last?
This cigar will give you an average time of 45 minutes. So, buy Cohiba Robustos online and take a sip of rich flavors.
There are no question found.