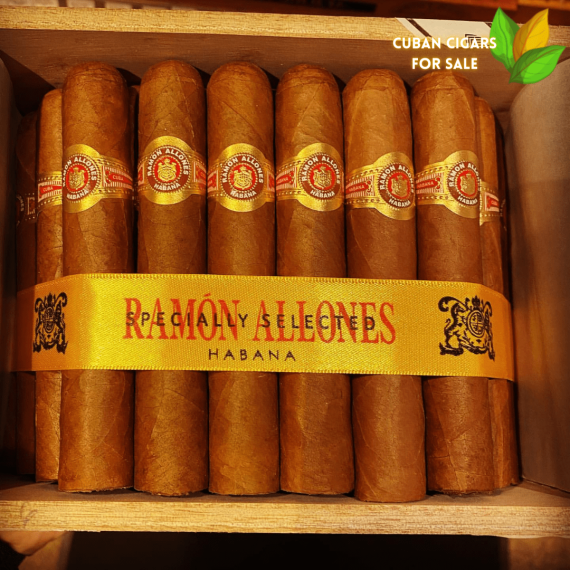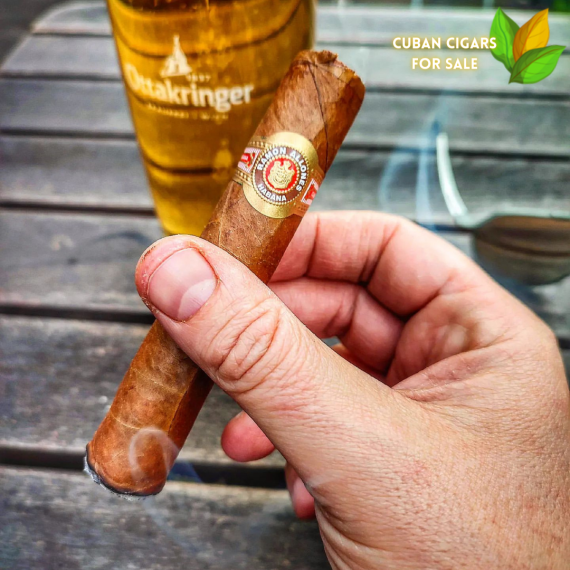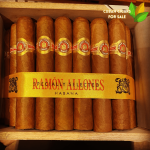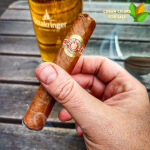 Ramon Allones Specially Selected
20
people are viewing this right now
Guaranteed safe & secure checkout
Description
Ramon Allones Specially Selected Cuban Cigars
Unveiling the authentic allure of the Cuban cigar industry, the Ramon Allones Specially Selected stands out as a testament to precision, passion, and tradition. This masterpiece beckons those with a penchant for excellence to delve into its rich legacy and impeccable construction. But what makes this Cuban cigar a true icon in the realm of cigars?
History and Evolution of Ramon Allones
Founded in 1837, Ramon Allones is one of the oldest brands still produced in Cuba, holding an esteemed place in the cigar world. The brand's rich history is intertwined with the development and branding of cigars and cigar boxes. Ramon Allones was credited as the first manufacturer to decorate its boxes with ornate labels and bright colors. Over 150 years later, the allure of the brand remains undiminished.
Ramon Allones isn't just a staple in the Cuban cigar universe. It's a brand that's seen the ebb and flow of the industry, evolving to meet changing palates while still staying true to its core identity. Despite being one of the smaller brands coming out of Cuba, the heritage and quality it carries are second to none.
Craftsmanship Beyond Comparison
What sets Ramon Allones apart is the meticulous attention to detail. From the selection of the best Cuban tobaccos to the precision in its vitola, each cigar is a result of rigorous quality checks and traditional craftsmanship.
Habanos S.A., the official distributor of Cuban cigars, has time and again endorsed the brand's adherence to quality. Visit their official site for more insights on their portfolio and dedication to the craft.
Technical Sheet
| Specification | Detail |
| --- | --- |
| Size | 124mm |
| Ring Gauge | 50 |
| Flavor Profile | Full-bodied with notes of cedar, earthy undertones, and sweet tobacco |
| Vitola | Robusto |
| Wrapper | Authentic Cuban |
| Number in Box | 25 Cigars |
Ramon Allones in the Modern Era
In recent years, the Ramon Allones brand has continued to make waves. The Specially Selected, also lovingly known as RASS among aficionados, was given recognition in the Cigar Aficionado's Top 25, showcasing its continued prowess in the cigar world. Check out Cigar Aficionado for reviews and insights.
Every puff of a Ramon Allones Specially Selected cigar is layered with earthy espresso bean but notes of marzipan and citrus also shine through, creating a complex character that is both intense and harmonious.
Why Ramon Allones Stands Out
When it comes to Cuban cigars, Ramon Allones offers the best bang for your buck. It's not just about the blend, but the experience. From the perfect draw to the aromatic cedar and earthy notes that it leaves on the palate, every element is curated to perfection.
Moreover, the brand's consistency in delivering great construction combined with complex flavors ensures that every cigar offers the authentic Cuban experience, as cigars are supposed to.
In Conclusion
Ramon Allones, founded in 1837, is a pioneer in the branding of cigars and cigar boxes.
The brand might not be a household name, but it's a gem in the world of Cuban cigars.
The Specially Selected variant is a harmonious blend of intensity and intricate flavors, providing a unique smoking experience.
Recognized and endorsed by reputed platforms like Habanos and Cigar Aficionado.
The perfect choice for those who appreciate a classic Cuban cigar with a rich legacy.
There are no question found.