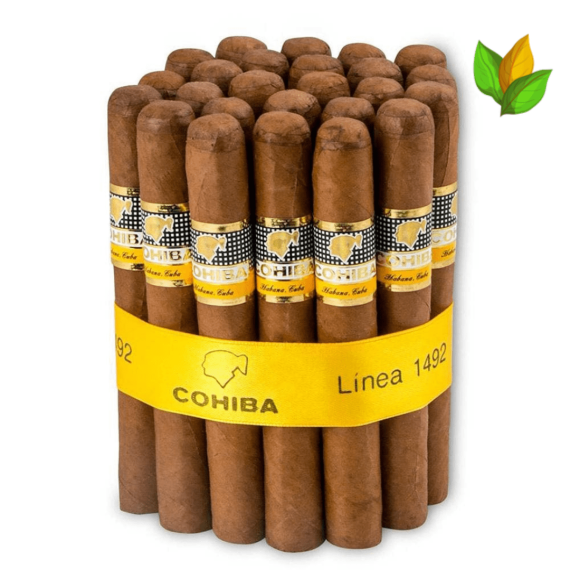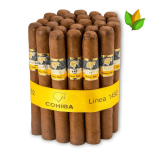 21
people are viewing this right now
Guaranteed safe & secure checkout
Description
Cigar Brand: Cohiba
Country of Origin: Cuba
Ring Gauge: 42
Length: 129 mm/ 5 inches
Shape: Petit Corona
Strength: Medium
Made: Handmade
Avg. Smoking Time: 35 minutes
Box Format: Pack of 3 Tubes and Box of 25
Status: Currently Available
Cohiba Siglo II: what makes them so special?
Cohiba Siglo II cigars are some of the most beloved and highly sought-after premium cigars on the market. The blend of luxurious Cuban Tobaccos gives them a unique flavor profile with hints of wood and spice. The cigars also feature a perfect draw, construction and burn, making them an incredibly enjoyable smoke. What truly makes Cohiba Siglo II cigars special is that they are made in one of the oldest cigar factories in Cuba, the El Laguito factory. Each cigar is handcrafted by skilled artisans who adhere to old-world methods and traditions for a truly unique smoking experience. These luxurious cigars offer an unforgettable flavor, making them ideal for those seeking an exceptional smoking experience.
The taste of Cohiba Siglo II: what does it taste like?
The Cohiba Siglo II is one of the finest cigars on the market. It has a unique flavor with cocoa, coffee, cedar, and leather notes. The wrapper has a creamy texture with hints of sweetness and spice. The draw is smooth and produces thick smoke that lingers on the palate. The burn is even and consistent throughout the cigar. Upon first puff, you will be greeted with an earthy taste followed by a hint of sweetness. As it continues to burn, you will experience nuances of cocoa, coffee, cedar, and leather that all blend to create a unique flavor profile. The overall experience is complex and deep, leaving you wanting more.
What's the size of Cohiba Siglo II?
Cohiba Siglo II is a medium-sized cigar that measures 4 7/8 inches in length with a ring gauge of 40. It's a popular choice for those who appreciate the quality of Cuban cigars without spending too much money. This cigar has a smooth draw and provides an even burn, making it a great choice for the novice smoker. The Cohiba Siglo II has an elegant shape, with slightly tapered ends that provide added complexity when smoking it. The flavor profile is rich and complex, with coffee, leather and wood notes. The finish is long and enjoyable, leaving you wanting more after each puff. If you're looking for an affordable way to experience the best Cuban cigars, then the Cohiba Siglo II might be just what you're looking for.
How long does a Cohiba Siglo II?
The Cohiba Siglo II is a medium-sized cigar with a length of 4.88 inches and a ring gauge of 40, making it an ideal size for those who are short on time but still want to enjoy the full flavor of a premium cigar. The smoke time will depend on the smoker, but it can usually last anywhere from 45 minutes to an hour. Those looking to maximize their smoking experience might consider pairing the Cohiba Siglo II with a good rum or whiskey, as the flavors will complement each other nicely. The taste profile of this cigar is best described as nutty and earthy, with hints of cedar and chocolate. It has been rated as one of the most complex cigars due to its unique blend of tobaccos from different regions in Cuba. So, if you're looking for a medium-bodied cigar with plenty of flavor and complexity, then the Cohiba Siglo II is worth trying.
What is the type of wrapper on the Cohiba Siglo II?
The Cohiba Siglo II is a premium Cuban cigar produced by Habanos S.A., Cuba's leading producer of cigars. It is known for its unique flavor and aroma. The wrapper on the Cohiba Siglo II cigars is a light-brown shade-grown tobacco leaf called a Corojo wrapper. This leaf was originally developed in the Vuelta Abajo region of Cuba, and it has become the signature wrapper for many Cuban cigars, including the Cohiba Siglo II. The Corojo wrapper provides an extra layer of complexity to the cigar, with subtle earthy flavors and aromas that linger on your palate. It also provides a delicate balance between sweetness and spice, perfecting it with coffee or other bold drinks. Overall, the Cohiba Siglo II cigar has become one of Cuba's most sought-after smokes due to its unique Corojo wrapper and its smooth yet flavorful smoke.
What's the place to buy Cohiba Siglo II?
Look no further than your local cigar store if you're looking for the perfect place to buy Cohiba Siglo II cigars. Cigar stores are a great place to find these luxurious Cuban cigars, as they specialize in stocking only the highest quality products. You can also ask to speak with someone knowledgeable about cigars and can give you advice on what type of Cohiba Siglo II would be best for your taste and budget. Plus, most cigar stores will offer discounts or special offers on certain brands, so take advantage of those when available. Additionally, many cigar stores have a wide selection of other premium cigars from around the world, so if you're looking for something different, it may be worth looking around. Considering all these factors, it's clear that cigar stores are the ideal destination for anyone looking to purchase Cohiba Siglo II cigars.
Cohiba Siglo II: What does it smell like?
The Cohiba Siglo II is a Cuban cigar considered one of the finest cigars in the world. It has an exquisite aroma that can be described as earthy, sweet and spicy. The smell of this cigar is often compared to leather, cedar and even chocolate. Its unique scent has a hint of spice, but it's not overwhelming or overpowering. When you light up a Cohiba Siglo II, you'll be taken aback by its complex aromas that will transport you to Cuba. Its distinctive aroma can be described as woody and nutty, with a hint of sweetness that lingers in the air. The Cohiba Siglo II provides an exquisite olfactory experience that will stay with you long after your last puff.
Cohiba Siglo II it's a good cigar for beginners?
The Cohiba Siglo II is a great cigar for beginners. It's mild and smooth, with a creamy texture and an even burn. The sweet and mellow flavor of the tobacco comes through without any harshness. Plus, it has an easy draw that won't be too overwhelming for those just starting out in cigar smoking. The construction of the cigar is top-notch, making it look as good as it tastes. This makes it perfect for enjoying on special occasions or to give as a gift to someone who's just getting into cigars. It's also affordable, so you don't have to break the bank to enjoy this classic Cuban smoke.
Home ➡️ Home Page.
Cohiba Cuban Cigars ➡️ Choose Oher vitolas and boxes.
Cohiba Siglo Vl (Tubos) Box of 15 Luxury ➡️ Recommended 🔥🔥
There are no question found.